13,835
mortgages
9.8
average customer rating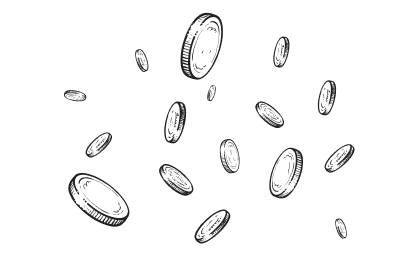 €5.5 billion
financed by mortgages
Let us find the best mortgage solution for you. It's what we do all day.
From house-hunting to house-warming in 5 steps
You've started house-hunting, but how much can you borrow?
Thoroughly prepared through our webinar
In a single evening, we'll take you through all of the aspects involved in buying a home. Whether it's your first home, or if you're selling up and moving on to another property, our advisors are always happy to help you on your way.
Calculate your maximum mortgage
Before you start looking, you'll naturally want to know how much you can borrow. By using our online calculation tool, you can generate your own initial estimate.
Check current prices and bidding info with Walter Living
Use Viisi for a free trial subscription of no less than 6 months at Walter Living. This allows you to request up-to-the-minute price and bidding information on all properties. Is a property being offered at a very attractive price, or is the asking price far too high? Has it been sold before and come back onto the market again later? You'll get to see it all!
Phone appointment with an advisor
We'll conduct a preliminary meeting by phone, and with us, it's always without further obligation. This way, we can find out together within half an hour whether we're able to help you. We can almost always provide a direct insight into the possibilities open to you.
Schedule a call appointment right away
Looking for more reading material?
Our knowledge database is packed with useful information on mortgages and house-hunting.
Bidding on a property
Offer with certainty
An offer without a financing condition increases your likelihood of a successful bid. It is not without risks however, which is why Viisi, in collaboration with BNP Paribas, introduced Offer with Certainty. After a thorough assessment, we will issue you a maximum figure with which you can make an offer that is not subject to financing.
Legal guidance
During your search and after the purchase of your new home, you can make free use of the DAS legal helpline, which is useful for any legal questions surrounding the purchase, financing, transfer and renovation of your new home.
Are there any other questions on your mind? Your advisor is on standby.
Your advisor is always available for questions during your search. That's great news!
Offer accepted? Let's get started!
Tailored mortgage offer
During the consultation, we'll discuss which mortgage best matches your requirements, and look for a mortgage lender who can meet your needs. We'll compare interest rates and processing times, look for the perfect fit, and calculate exactly what your monthly payments would be.
Insurance included
Are you in need of term life insurance or income protection cover? That won't cost any extra money with Viisi.
Need an appraiser or bank guarantee?
Look no further, because Viisi can also set that up for you. We work together with a number of fast and knowledgeable partners, with competitive rates.
Your application with the mortgage lender
A 40% faster processing rate for your mortgage
Our team of lightning-fast mortgage underwriters will prepare your application down to the last detail, and apply for the mortgage offer of your choice. You will receive a suitable proposal as soon as possible. Do you have any further questions? Your advisor will be happy to discuss them with you.
Final quote
Have you agreed to the mortgage proposal, and did all your documents receive a positive assessment? If so, you will then receive a final mortgage offer. All you need to do afterwards is sign, and your mortgage is done and dusted!
Your home = financed!
Congratulations! ? You can head over to the notary and pick up the keys to your house. Let's all toast to that!
Why choose Leiden?
With more than 125,000 residents, Leiden is the fourth-largest municipality in South Holland, closely following Rotterdam, The Hague, and Zoetermeer. This characterful city boasts a rich history. Within the 'City of Keys', you'll find the Netherlands' oldest university and a beautiful, historic city centre with charming canals, courtyards, and countless monuments. Leiden hosts a rich cultural selection and offers ample opportunities in terms of living, working, and recreation.
Leiden lies within the 'Randstad', near large cities such as The Hague, Rotterdam, and Amsterdam, though the coastal villages of Noordwijk and Katwijk are also within reach. Thanks, in part, to the excellent accessibility and amenities, a growing number of home seekers (and tourists) are discovering Leiden. A wide range of housing options is available: you'll find both historical buildings and new developments. Housing prices vary between € 190,000 for a compact apartment and € 2 million for a villa or stately canal house.
Your situation
Are you going to buy your first house, do you want to remortgage your property or are you going to buy a next house?
Including mandatory or desired term life insurance(s)
MyViisi: documents can be simply and securely uploaded online
Academically educated advisors
One fixed advisor for the entire mortgage process
Expat mortgage advice in Leiden? Viisi is your advisor!
Leiden has plenty to offer families and young professionals alike. Be charmed by the compact, orderly city centre which is well worth exploring by foot. Had enough of the hustle and bustle of the city? Visit one of the many parks and greenspaces to relax and unwind. Leiden is known for its extensive canal network. No matter where you find yourself, water is never far away. Following Amsterdam, Leiden has the second-largest water flow through its historic ports. Situated along the Holland lakes area, the city is an excellent launching point for a pleasure or tour cruise. Devastating bombardments during the Second World War levelled the area near the station and the Mare district; fortunately, the fortress town's historical centre was spared.
Just as in other popular cities, it can be challenging to get hold of your dream house in Leiden. Thorough preparation and a clear approach are therefore essential. Looking for expat mortgage advice in Leiden? We look forward to helping you! Schedule a non-binding telephone consult to discover your options or attend our seminar in The Hague. The session is free of charge and takes place during the evening to accommodate work schedules. In two and a half hours, our university-educated consultants will guide you through the ins and outs of purchasing a home in Leiden.
Water, greenery, and culture in Leiden
Leiden's various canals and waterways are a defining feature of the historic city. With its countless stately houses, Rapenburg is the most well-known canal. The canals of Leiden trace along museums, courtyards, and countless historical buildings with magnificent façades, making exploring the city via boat well worth the effort. The quaysides are low, and an abundance of docks are available to accommodate your visit. Large water and recreation areas border the city, such as Vlietland, the Kagerplassen, and the Valkenburgse Meer.
Leiden also has a lot to offer in the way off greenspace. Located along the former ramparts, parks such as the Plantsoen, Ankerpark, Huigpark, and the Hortus Botanicus now add an abundance of green character to the city. Urban parks such as the Leidse Hout and Cronensteyn also provide solace outside of the city centre.
Known as a giant open-air museum, the city boasts an impressive 1,250 national monuments including the Citadel (Burcht van Leiden), the Weigh House (Waag), and the Koornbrug. Museums such as Naturalis, the National Museum of Antiquities, and the National Museum of Ethnology are also worth paying a visit. Popular events are held throughout the year, such as the Liberation of Leiden, the Werfpop Festival, and the Dragon Boat Races. Good infrastructure makes the city accessible via public transport and car alike, and cyclists are also well-accommodated with intercity cycling paths, including two direct routes to The Hague.
Professional expat mortgage advice Leiden
Leiden is a bustling city with plenty to offer. Interested in living in the birthplace of old masters such as Rembrandt, Jan Steen, and Gerard Dou? Navigating the canals back to your apartment or home in a traditional Dutch 'sloop'? Whatever it is your looking for and no matter your situation, with Viisi Leiden, you'll receive personal expat mortgage advise. With our knowledge of the ins and outs of the real estate market in Leiden, you won't face any unexpected surprises.
We've set out several facts about Leiden's current housing market below:
The average property value amounts to € 218,000.
A house in Leiden is on the market for an average of 36 days.
Some 400 homes enter new ownership per quarter.
In the up-and-coming districts of Molenbuurt, de Camp, and Merenwijk Centrum, property prices are rising fast.
The most sought-after neighbourhoods in Leiden are Havenwijk-Noord, Levendaal-West, Raadsherenbuurt, Havenwijk-Zuid, and Noordvest.
Interested in what we have to offer?
Schedule an unbinding telephone consult for expat mortgage advice in Leiden. Considering other locations? With offices in key centres such as The Hague and Delft, you can profit from our expertise nearly everywhere. View the list below for an overview of our locations. Call one of our mortgage advisors to find out what we can do for you!