13,450
mortgages
9.8
average customer rating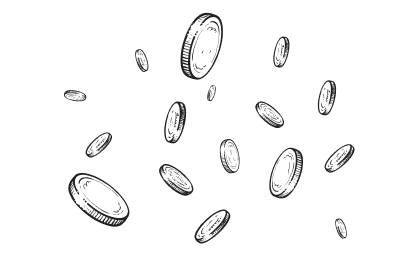 €5.3 billion
financed by mortgages
Let us find the best mortgage solution for you. It's what we do all day.
From house-hunting to house-warming in 5 steps
You've started house-hunting, but how much can you borrow?
Thoroughly prepared through our webinar
In a single evening, we'll take you through all of the aspects involved in buying a home. Whether it's your first home, or if you're selling up and moving on to another property, our advisors are always happy to help you on your way.
Calculate your maximum mortgage
Before you start looking, you'll naturally want to know how much you can borrow. By using our online calculation tool, you can generate your own initial estimate.
Check current prices and bidding info with Walter Living
Use Viisi for a free trial subscription of no less than 6 months at Walter Living. This allows you to request up-to-the-minute price and bidding information on all properties. Is a property being offered at a very attractive price, or is the asking price far too high? Has it been sold before and come back onto the market again later? You'll get to see it all!
Phone appointment with an advisor
We'll conduct a preliminary meeting by phone, and with us, it's always without further obligation. This way, we can find out together within half an hour whether we're able to help you. We can almost always provide a direct insight into the possibilities open to you.
Schedule a call appointment right away
Looking for more reading material?
Our knowledge database is packed with useful information on mortgages and house-hunting.
Bidding on a property
Offer with certainty
An offer without a financing condition increases your likelihood of a successful bid. It is not without risks however, which is why Viisi, in collaboration with BNP Paribas, introduced Offer with Certainty. After a thorough assessment, we will issue you a maximum figure with which you can make an offer that is not subject to financing.
Legal guidance
During your search and after the purchase of your new home, you can make free use of the DAS legal helpline, which is useful for any legal questions surrounding the purchase, financing, transfer and renovation of your new home.
Are there any other questions on your mind? Your advisor is on standby.
Your advisor is always available for questions during your search. That's great news!
Offer accepted? Let's get started!
Tailored mortgage offer
During the consultation, we'll discuss which mortgage best matches your requirements, and look for a mortgage lender who can meet your needs. We'll compare interest rates and processing times, look for the perfect fit, and calculate exactly what your monthly payments would be.
Insurance included
Are you in need of term life insurance or income protection cover? That won't cost any extra money with Viisi.
Need an appraiser or bank guarantee?
Look no further, because Viisi can also set that up for you. We work together with a number of fast and knowledgeable partners, with competitive rates.
Your application with the mortgage lender
A 40% faster processing rate for your mortgage
Our team of lightning-fast mortgage underwriters will prepare your application down to the last detail, and apply for the mortgage offer of your choice. You will receive a suitable proposal as soon as possible. Do you have any further questions? Your advisor will be happy to discuss them with you.
Final quote
Have you agreed to the mortgage proposal, and did all your documents receive a positive assessment? If so, you will then receive a final mortgage offer. All you need to do afterwards is sign, and your mortgage is done and dusted!
Your home = financed!
Congratulations! ? You can head over to the notary and pick up the keys to your house. Let's all toast to that!
Living in Almere
Almere is developing rapidly and is becoming increasingly popular, partly thanks to its excellent location in relation to Amsterdam. Although Almere is not the capital of Flevoland, it is the largest city in the province. In addition, it is relatively speaking the fastest growing larger municipality in the Netherlands. Due to the housing shortage and rising house prices in the capital, more and more Amsterdammers are forced to take the step to the polder city. However, Almere offers more advantages, such as space, greenery and lots of square meters for your money.
With more than 200,000 inhabitants, Almere is considerably larger than Lelystad and the city is expected to grow to around 300,000 to 350,000 inhabitants in the near future. The proportion of young residents is large, making Almere a city of the future. Viisi's mortgage advisers know the city and know what is happening on the housing market in Almere. As a result, they can help you optimally with taking out a mortgage that suits your situation and preferences.
Your situation
Are you going to buy your first house, do you want to remortgage your property or are you going to buy a next house?
Including mandatory or desired term life insurance(s)
MyViisi: documents can be simply and securely uploaded online
Academically educated advisors
One fixed advisor for the entire mortgage process
Mortgage advice with knowledge of Almere
At Viisi, the mortgage advisers are of course experts in their field, but they are also known in the city where you want to buy a home. Advisors who know the local market work at our offices, which is important in a fast-growing municipality like Almere. This way you get real tailor-made advice and that pays off.
Living below sea level
Almere was founded in the mid-20th century. New land was created with the draining of the former Zuiderzee. The dikes protect the province of Flevoland against the surrounding water. Almere borders the Gooimeer, the IJmeer and the Markermeer and is even two to five meters below sea level. This is a special phenomenon for non-Dutch people.
Fortunately, you don't notice much of life below sea level in the city itself. Almere is anything but a hole. Modern architecture and special buildings are characteristic, as are innovative cultural experiments. The space outside the city regularly makes way for festivals, such as the Almere Harbor Festival, the Libelle Summer Week and Pop Festival Zand.
Living in a big city has many advantages; there is always something to do and something for everyone. Yet it is also nice if you can regularly take a trip to nature. Thanks to the many nature reserves near Almere, this is no problem at all. The Oostvaardersplassen, the Zilverstrand, the Kotterbos and many other beautiful places provide a fresh breeze and space for movement and relaxation.
Walking through the city you can meet well-known Dutch people such as Ali B., Annemarie Jorritsma, Remy Bonjasky, Nicolette Kluijver or Frank Rijkaard.
Professional mortgage advice Almere
Do you work in Amsterdam, in Almere or near the polder city? With the good road network and public transport, Almere is a great city to accommodate. Do you like to go green or do you like surfing or sailing, then this is also the place for you. Will it be your first home? Is the family situation changing? Do you live alone or with five? Whatever your situation, at Viisi we look together with you at the possibilities and the most suitable solution.
Did you know:
The average WOZ value of a home in Almere is € 187,000.
More than 1,000 homes are sold and bought every quarter.
A house is only for sale for more than 20 days on average.
The nicer houses can certainly be found in Overgooi, Vogelhorst and Almere Hout.
Do you want to know more? Our consultants know better than anyone what is going on and are happy to give you appropriate advice.
Curious about what we can do for you?
We start the introduction with a no-obligation telephone conversation. We schedule it when it suits you. Not sure yet whether it will be Almere? No problem, our offices are located in many places in the country. We can always help you with the right mortgage advice.