13,450
mortgages
9.8
average customer rating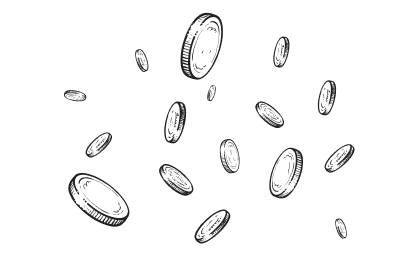 €5.3 billion
financed by mortgages
Let us find the best mortgage solution for you. It's what we do all day.
From house-hunting to house-warming in 5 steps
You've started house-hunting, but how much can you borrow?
Thoroughly prepared through our webinar
In a single evening, we'll take you through all of the aspects involved in buying a home. Whether it's your first home, or if you're selling up and moving on to another property, our advisors are always happy to help you on your way.
Calculate your maximum mortgage
Before you start looking, you'll naturally want to know how much you can borrow. By using our online calculation tool, you can generate your own initial estimate.
Check current prices and bidding info with Walter Living
Use Viisi for a free trial subscription of no less than 6 months at Walter Living. This allows you to request up-to-the-minute price and bidding information on all properties. Is a property being offered at a very attractive price, or is the asking price far too high? Has it been sold before and come back onto the market again later? You'll get to see it all!
Phone appointment with an advisor
We'll conduct a preliminary meeting by phone, and with us, it's always without further obligation. This way, we can find out together within half an hour whether we're able to help you. We can almost always provide a direct insight into the possibilities open to you.
Schedule a call appointment right away
Looking for more reading material?
Our knowledge database is packed with useful information on mortgages and house-hunting.
Bidding on a property
Offer with certainty
An offer without a financing condition increases your likelihood of a successful bid. It is not without risks however, which is why Viisi, in collaboration with BNP Paribas, introduced Offer with Certainty. After a thorough assessment, we will issue you a maximum figure with which you can make an offer that is not subject to financing.
Legal guidance
During your search and after the purchase of your new home, you can make free use of the DAS legal helpline, which is useful for any legal questions surrounding the purchase, financing, transfer and renovation of your new home.
Are there any other questions on your mind? Your advisor is on standby.
Your advisor is always available for questions during your search. That's great news!
Offer accepted? Let's get started!
Tailored mortgage offer
During the consultation, we'll discuss which mortgage best matches your requirements, and look for a mortgage lender who can meet your needs. We'll compare interest rates and processing times, look for the perfect fit, and calculate exactly what your monthly payments would be.
Insurance included
Are you in need of term life insurance or income protection cover? That won't cost any extra money with Viisi.
Need an appraiser or bank guarantee?
Look no further, because Viisi can also set that up for you. We work together with a number of fast and knowledgeable partners, with competitive rates.
Your application with the mortgage lender
A 40% faster processing rate for your mortgage
Our team of lightning-fast mortgage underwriters will prepare your application down to the last detail, and apply for the mortgage offer of your choice. You will receive a suitable proposal as soon as possible. Do you have any further questions? Your advisor will be happy to discuss them with you.
Final quote
Have you agreed to the mortgage proposal, and did all your documents receive a positive assessment? If so, you will then receive a final mortgage offer. All you need to do afterwards is sign, and your mortgage is done and dusted!
Your home = financed!
Congratulations! ? You can head over to the notary and pick up the keys to your house. Let's all toast to that!
What does Amstelveen have to offer?
We mentioned previously that Amstelveen is a particularly green city. If you are a busy professional, it is lovely to live close to idyllic parks and pleasant woodlands. Letting your hair down on the beach is no problem either, you can be there in no time. Amstelveen is an ideal place to live in respect of work, going out, or shopping, but Amsterdam and other large cities are close by.
Amstelveen's shopping centre is very modern. In addition to large retail chains, the city centre offers wonderful little boutiques, a large central library, cultural amenities, catering outlets and offices. The shopping area is the largest in the region south of Amsterdam.
As with many large cities, Amstelveen is a melting pot of cultures. Interestingly, the Japanese are the largest population group after the Dutch. Many expats live in Amstelveen because of the central location in relation to a number of large international offices. In addition to Japanese, there are also many Chinese and Indians. These demographics are also reflected in the shopping district where authentic Japanese shops bring colour and vibrancy to the shopping centre.
Something special about Amstelveen
There is certainly something special about Amstelveen. The city produces international stars. In the entertainment industry, we have successful DJ Martin Garrix and actors Famke Janssen and Michiel Huisman who now work in America. The pride of Copenhagen, Brussels and Amsterdam is showcased in the Cobra Museum: featuring key works by artists of the CoBrA movement.
Call us if this green city appeals to you and together we will ensure you can buy the house of your dreams within your means.
Your situation
Are you going to buy your first house, do you want to remortgage your property or are you going to buy a next house?
Including mandatory or desired term life insurance(s)
MyViisi: documents can be simply and securely uploaded online
Academically educated advisors
One fixed advisor for the entire mortgage process
The best mortgage advice in Amstelveen
We believe you can only give good mortgage advice if, in addition to extensive current knowledge of mortgages, you have knowledge of the (prospective) town or city. That is the reason we have local offices with mortgage advisors who know the city. Investing in a home in Amstelveen offers financial security. Close to the bustle of Amsterdam, centrally located in relation to the whole of the Randstad and close to woodlands and the beach, the city will only increase in popularity, as will property prices.
Our introductory no obligation telephone consultation gives you an opportunity to find out what we can do for you and whether you are comfortable dealing with us. Do you like to have access to information? We hold webinars especially for people who like to be well informed. These events are held in the evening and are hosted by a university educated mortgage advisor. The seminars offer an opportunity to share information, ask questions and discuss challenges and solutions.
Professional mortgage advice in Amstelveen
Would you like to live centrally in relation to the Randstad? Or did you grow up in Amstelveen and are you looking for a new home? Has your family situation changed, or are you a first-time buyer on the housing market? We will explore the mortgage options together with you. Viisi knows the city and can advise you about more than just mortgages.
A few facts at a glance:
The Randwijck, Stadshart and Patrimonium areas are good options for those with higher incomes.
The average cadastral value of a home is € 296,000.-.
One of the over 40,000 homes in Amstelveen could be your new home.
Want to know more? Our mortgage advisors know the situation better than anyone does and would be delighted to offer appropriate advice.
Curious to find out what we can do for you?
Contact us for an introductory no obligation telephone consultation. We will call you at a time that suits you, so you have all the time you need to tell us about your ideas and ask questions. Have you set your sights beyond just Amstelveen? We have offices across the whole country, so there is always a mortgage advisor familiar with your prospective town or city.