Your mortgage interview: things to consider
Are you looking to buy your own home and curious to know how much you can borrow? If so, you're more than welcome to set up a no-obligation mortgage interview. This is an exploratory meeting, whereby our mortgage advisor will discuss a number of matters with you, such as your finances. If your offer has been accepted, a consultation will follow. Find out what to expect from the consultation and how best to prepare for it, so that you can reel in the best mortgage from the mortgage reservoir.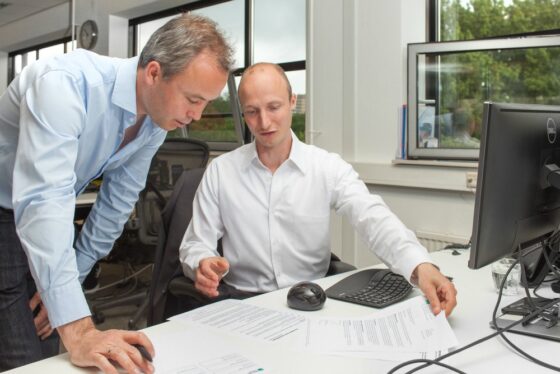 Request a mortgage interview
Are you thinking about buying a home, and looking around in the housing market? Or has an offer already been put on the table with the selling party? You can choose to inquire directly with a lender about the options for a mortgage. The disadvantage is of course that the lender is only offering their own products. At Viisi, we work together with approximately 35 lenders. In other words: we work with all lenders who also work in conjunction with independent advisors, so that we always find the most suitable lender for you. Discover what we can make happen for you.
Non-binding mortgage interview: the exploratory meeting
An exploratory meeting is conducted by phone, and with us, it's always without further obligation. This way, we can find out together within half an hour whether we're able to help each other. We can almost always provide a direct insight into the possibilities open to you. In the first mortgage interview, we will focus on:
Who you are and what your housing requirements are
Who we are, how we work, and our rates
Your financial situation and an initial estimate of the maximum mortgage you can get, and the maximum you're willing to spend on monthly payments
What you have to take into account, such as considering different types of insurance for example.
The search for a home. We are happy to provide some tips. Have you already made an offer on a property or bought a home? If this is the case, we often immediately schedule a consultation.
A checklist in My Viisi featuring all the documents you need to upload, in preparation for the consultation.
Need a mortgage? A consultation is next
Have you bought a home and are you looking for a mortgage? Fantastic – it's a great step. So now it's time to build on that dream some more, through a consultation. We'll discuss our service assignment in advance. This will mention the work we will carry out and our rates. This second mortgage interview is a lot more comprehensive than the first. Keep in mind that you will need to sit at the table with our advisor for about 2 hours. During the consultation we will discuss the following:
Your financial situation now and in the future, including (study) debts and assets
Which type of mortgage is the most suitable for your situation: annuity or linear.
The degree of risk you're willing to take, such as the length of the fixed-rate period.
The interest rates, processing times, risk categories and conditions of various lenders
The exact calculation of your gross monthly costs, and an indication of your net monthly costs, with the lender(s) of your choice
The risks you might have to insure yourself for, such as death, unemployment or incapacity for work.
Tax measures, such as the mortgage interest deduction and the Bijleenregeling (mortgage top-up limit).
During or after your consultation, you will receive an overview of the mortgages that are the best match for your requirements. This way you can make an informed choice.
Mortgage interview questions
Naturally, we will also answer your most urgent questions. Each situation is just that little bit different, and we know that better than anyone. Are you uncertain about what you need to and are able to ask? Here are some guidelines:
Am I entitled to the NHG (national mortgage guarantee)?
What does leasehold mean exactly?
What about renovation work?
Can my parents help with the mortgage?
Put your questions on paper, and we'll take the time to answer them for you. In addition, there are a number of things that you can prepare yourself.
Checklist for the mortgage interview
Your identity card or passport and a wage slip from the past 3 months – if you have not yet provided these during the first interview
An employer statement. Will you be issued with a letter of intent? If so then that will then be included in the employer statement.
Statements of your savings account and any investments
An overview of any loans, even if you have already paid these off. It is mandatory to also mention your student debt.
Your pension overview, via a printout of mijnpensioenoverzicht.nl
Your tax return for the past year
If you are going to renovate – then take a renovation specification with you. This is especially necessary if you are applying for a construction deposit account.
Property contract of sale and apparaisal report
In My Viisi you'll find a checklist of exactly those matters you'll need to upload for the mortgage interview.
Easily upload your documents
At Viisi, we like to prepare for the consultation as thoroughly as possible. That is why we would like to receive all the documents mentioned above 3 working days in advance. You can easily upload them in your own secure My Viisi environment. We'll explain step by step what we expect and we'll provide some tips. As a result, the submittal can often be done properly in one session, and we'll ensure that your mortgage is arranged as quickly as possible.
What happens after your mortgage interview?
After your consultation, you will receive an extensive advisory report, with a description of what we have discussed – and more importantly: which mortgage options suit you best. You then choose which lender you want to take your mortgage out with, of course with the help of your advisor. We will then set the application in motion for you. Discover how we work what the process looks like further down the line.
We've already got our house in order here at Viisi, so schedule a phone appointment and we'll talk about how we can do the same for you!
Download white paper 'Buying a home in The Netherlands'
Do you want to go on a home hunt well prepared? You will find all the information in this white paper.