A linear or an annuity mortgage?
Choosing a mortgage type is a personal choice and we are often asked what the best option is. The linear mortgage is often considered to be cheaper, but is that really the case? And does an annuity mortgage give you more freedom? Or could the increasing costs be overwhelming?
In this article we will help you to gain insight through answering a set of frequently asked questions about both types of mortgage.
1. Why do most people choose an annuity mortgage?
You pay more for an annuity mortgage, compared to a linear mortgage, over the entire mortgage term as you pay a higher amount in interest. However, the monthly costs are initially lower.
For a mortgage of € 200,000 with an interest rate of 2.5% and a mortgage term of 30 years, the monthly costs for an annuity scheme will initially be € 176 lower than in a linear scheme. It takes ten to fifteen years on average before your monthly linear principal payment is less than your monthly annuity principal payment. Thus in the first years it means less money out of your pocket.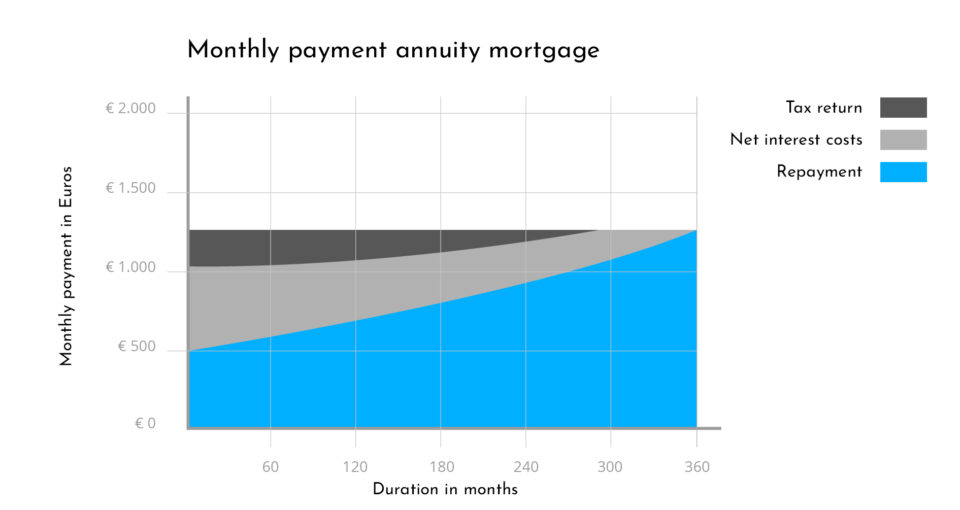 Would you prefer to repay the capital? That is possible!
You are allowed to repay at least an additional 10% of the initial mortgage annually, regardless of the chosen type of mortgage. Your mortgage broker can give you further details. Through this additional principal payment in addition to the annuity scheme, you can imitate the linear scheme. This allows you to have full control of possible additional principal payments. If you wish to use the money for other things, that is also an option. With an annuity you can enjoy the advantages of the linear mortgage, but not the other way round. It provides the freedom to repay, though not the obligation.
There are lenders that provide the possibility for an automatic additional principal payment. You have the option to stop this arrangement.
2. Is the linear mortgage a less expensive option?
It is frequently suggested that a linear mortgage is less expensive than an annuity mortgage. It is difficult to judge if this is true or not. One characteristic of a linear mortgage is that your initial principal payment is larger, resulting in you paying less interest on your loan. Paying less interest also means that your interest tax deduction is lower.
For a mortgage of € 200,000 with an interest rate of 2.5% over a period of 30 years, you will pay a gross total of € 9,000 less with a linear principal payment scheme compared to an annuity principal payment scheme.
Therefore, you initially have to pay less with an annuity principal payment scheme. The question lies in  what you do with this money. Is it in a savings account with a low interest rate? Or do you spend it? Repaying can then be more advantageous, for example by agreeing to a linear scheme.  Are you investing this money in something that generates value (investment, study, etc.)?  Then annuity principal payments can be more financially advantageous for you.
3. When should you choose a linear mortgage?
You choose a linear mortgage if you are prepared to initially pay higher monthly costs, which decrease on a monthly basis. However, most starters choose the lower monthly costs, which the annuity mortgage offers in the principal years. Approximately 5% of the newly finalised mortgages are linear. A number of reasons to choose for a linear mortgage are:
The certainty that you repay more in the initial years. Thus the risk of negative home equity reduces and you are more flexible to move house in the short term. For example, if you have plans to move abroad or if you want to move because your family is expanding.
You know that your income will decrease in the future, for example due to the fact that you are going to work less hours or will retire.
Due to the fact that you are paying off your loan faster, most lenders will also be more inclined to give you a discount on your interest rate.
You spend money like water and want to force yourself to spend your money wisely.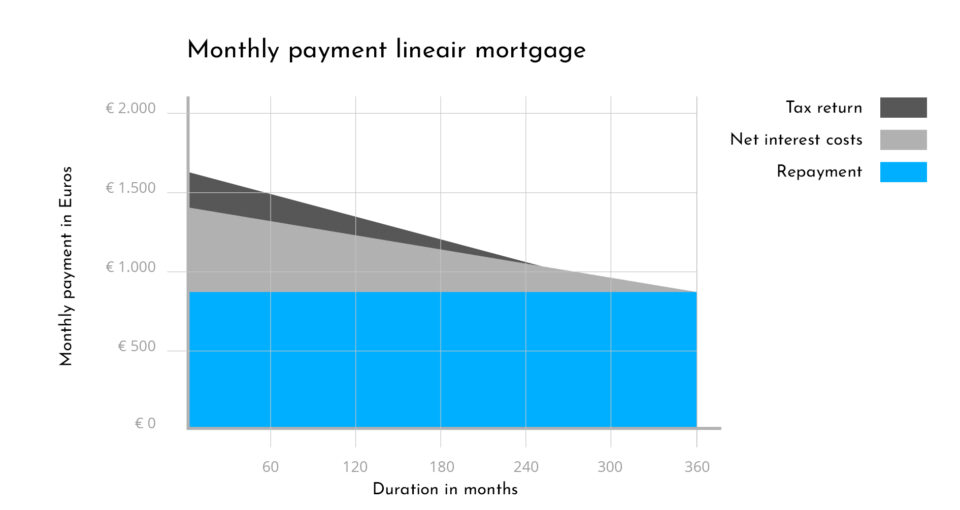 Do you have further questions or do you want to discuss the options for your specific situation with an experienced advisor? Then please do not hesitate to contact us. We will gladly look at your current situation together and find the most fitting choice for you.