13,450
mortgages
9.8
average customer rating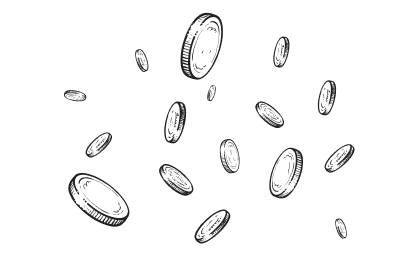 €5.3 billion
financed by mortgages
Let us find the best mortgage solution for you. It's what we do all day.
From house-hunting to house-warming in 5 steps
You've started house-hunting, but how much can you borrow?
Thoroughly prepared through our webinar
In a single evening, we'll take you through all of the aspects involved in buying a home. Whether it's your first home, or if you're selling up and moving on to another property, our advisors are always happy to help you on your way.
Calculate your maximum mortgage
Before you start looking, you'll naturally want to know how much you can borrow. By using our online calculation tool, you can generate your own initial estimate.
Check current prices and bidding info with Walter Living
Use Viisi for a free trial subscription of no less than 6 months at Walter Living. This allows you to request up-to-the-minute price and bidding information on all properties. Is a property being offered at a very attractive price, or is the asking price far too high? Has it been sold before and come back onto the market again later? You'll get to see it all!
Phone appointment with an advisor
We'll conduct a preliminary meeting by phone, and with us, it's always without further obligation. This way, we can find out together within half an hour whether we're able to help you. We can almost always provide a direct insight into the possibilities open to you.
Schedule a call appointment right away
Looking for more reading material?
Our knowledge database is packed with useful information on mortgages and house-hunting.
Bidding on a property
Offer with certainty
An offer without a financing condition increases your likelihood of a successful bid. It is not without risks however, which is why Viisi, in collaboration with BNP Paribas, introduced Offer with Certainty. After a thorough assessment, we will issue you a maximum figure with which you can make an offer that is not subject to financing.
Legal guidance
During your search and after the purchase of your new home, you can make free use of the DAS legal helpline, which is useful for any legal questions surrounding the purchase, financing, transfer and renovation of your new home.
Are there any other questions on your mind? Your advisor is on standby.
Your advisor is always available for questions during your search. That's great news!
Offer accepted? Let's get started!
Tailored mortgage offer
During the consultation, we'll discuss which mortgage best matches your requirements, and look for a mortgage lender who can meet your needs. We'll compare interest rates and processing times, look for the perfect fit, and calculate exactly what your monthly payments would be.
Insurance included
Are you in need of term life insurance or income protection cover? That won't cost any extra money with Viisi.
Need an appraiser or bank guarantee?
Look no further, because Viisi can also set that up for you. We work together with a number of fast and knowledgeable partners, with competitive rates.
Your application with the mortgage lender
A 40% faster processing rate for your mortgage
Our team of lightning-fast mortgage underwriters will prepare your application down to the last detail, and apply for the mortgage offer of your choice. You will receive a suitable proposal as soon as possible. Do you have any further questions? Your advisor will be happy to discuss them with you.
Final quote
Have you agreed to the mortgage proposal, and did all your documents receive a positive assessment? If so, you will then receive a final mortgage offer. All you need to do afterwards is sign, and your mortgage is done and dusted!
Your home = financed!
Congratulations! ? You can head over to the notary and pick up the keys to your house. Let's all toast to that!
Housing market in Hilversum
Hilversum is primarily known as a media city, but it is also a nice city to live. It is located on the edge of the Randstad and is easily accessible from all other major cities. The city is also very green. Hilversum is generally experienced as a very pleasant place to live. This is partly because it is relatively quiet compared to the rest of the Randstad and because of the presence of all important facilities.
Hilversum is only 20 minutes from Amsterdam and this has contributed to the rise in house prices in Hilversum in recent years. Fortunately, this increase has been limited in contrast to the rest of the Randstad and you can still find enough houses in different price categories in Hilversum. Before viewing a house in Hilversum, let a real estate agent inform you without obligation and let Viisi make a mortgage calculation for you without obligation, so that you can be perfectly prepared.
Your situation
Are you going to buy your first house, do you want to remortgage your property or are you going to buy a next house?
Including mandatory or desired term life insurance(s)
MyViisi: documents can be simply and securely uploaded online
Academically educated advisors
One fixed advisor for the entire mortgage process
Hilversum as a place of residence
At Viisi, we are convinced that you can only provide good mortgage advice if you know the place where someone buys a home. That's why we work with local offices and mortgage advisers who know the city. Our experts know what is going on and can therefore guide you optimally when purchasing your new home in Hilversum.
Hilversum is the most important town in the Gooi region and has approximately 90,000 inhabitants. Between 1958 and 1999 the municipality declined sharply in population, but now more and more people are finding their way (back) to Hilversum. The city is easily accessible by car and has direct train connections with Utrecht (15 minutes) and Amsterdam (25 minutes). There are three stations: Hilversum, Hilversum Media Park and Hilversum Sportpark.
Hilversum 'garden city'
Hilversum has a lot of greenery and is also referred to as a "garden city". The city is surrounded by the Laarder Wasmeer, the lower-lying peat excavations, now known as the Loosdrechtse and the Ankeveense Plassen, among others. There is also a lot of green within the municipal boundaries. Hilversum also has the largest nature bridge in the world, the Natuurbrug Zanderij Crailoo.
Hilversum or Hilvertshem?
The name Hilversum dates from 1305 and is derived from Hilvertshem, which means "residence or settlement (hem) of the person Hilvert". Sometimes the name is explained by the meaning "the heme (houses) between the hills" (Hilvertshem). The growth of weaving mills from the 17th to the 20th century brought the former farming village a lot of economic prosperity. In 1874 Hilversum, like the nearby towns of Laren, Naarden and Muiden, was connected to the railway network.
New construction in Hilversum
In the 1950s and 1960s, Hilversum carried out a major new construction program in the east and north of the municipality. In the 1970s, too, the districts of Kerkelanden and the Hilversumse Meent in the west, which are close to Bussum, were expanded considerably. At its peak, the city had more than 100,000 inhabitants, but unclear municipal politics, the withdrawal of industry and limited expansion options caused the number of inhabitants to drop sharply.
An increase has been visible again in recent years. This is partly due to the arrival of Nike's European head office, the establishment of commercial channels at the Media Park and the construction of the Sound and Vision museum. A lot of work has also been done to improve the infrastructure.
Professional mortgage advice Hilversum
Hilversum is an attractive city to live in thanks to its good accessibility and lots of greenery. There are three train stations, a shopping center and with three museums and various monuments, the city also has a lot to offer in the cultural field.
There is also a lot of housing supply in the lower, middle and high segment. Are you exploring the Hilversum housing market or do you already have a dream house in mind? Viisi's mortgage advisers are happy to think along with you and look for a mortgage that suits your situation and wishes. Did you know that:
The average home value in Hilversum is € 284,000.
91% of the houses in the city date from before 2000.
Every month approximately 350 homes change owners.
A house is on the market for an average of 40 days.
The new Anna's Hoeve district is being built sustainably and is situated next to a nature reserve.
Would you like to know more about living in Hilversum? Our mortgage advisers know the city like no other and are happy to provide appropriate advice.
Curious about what we can do for you?
Schedule a no obligation introductory telephone consultation whenever it suits you best. Have you set your sights beyond just Hilversum? We may be able to assist you with mortgage advice then too. We have offices in various locations throughout the country so you are never far from a branch. You can find our contact details and a list of all our branches at the bottom of this page. See you soon!