13,450
mortgages
9.8
average customer rating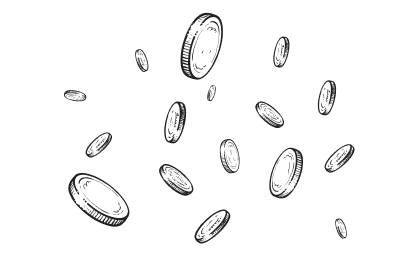 €5.3 billion
financed by mortgages
Let us find the best mortgage solution for you. It's what we do all day.
From house-hunting to house-warming in 5 steps
You've started house-hunting, but how much can you borrow?
Thoroughly prepared through our webinar
In a single evening, we'll take you through all of the aspects involved in buying a home. Whether it's your first home, or if you're selling up and moving on to another property, our advisors are always happy to help you on your way.
Calculate your maximum mortgage
Before you start looking, you'll naturally want to know how much you can borrow. By using our online calculation tool, you can generate your own initial estimate.
Check current prices and bidding info with Walter Living
Use Viisi for a free trial subscription of no less than 6 months at Walter Living. This allows you to request up-to-the-minute price and bidding information on all properties. Is a property being offered at a very attractive price, or is the asking price far too high? Has it been sold before and come back onto the market again later? You'll get to see it all!
Phone appointment with an advisor
We'll conduct a preliminary meeting by phone, and with us, it's always without further obligation. This way, we can find out together within half an hour whether we're able to help you. We can almost always provide a direct insight into the possibilities open to you.
Schedule a call appointment right away
Looking for more reading material?
Our knowledge database is packed with useful information on mortgages and house-hunting.
Bidding on a property
Offer with certainty
An offer without a financing condition increases your likelihood of a successful bid. It is not without risks however, which is why Viisi, in collaboration with BNP Paribas, introduced Offer with Certainty. After a thorough assessment, we will issue you a maximum figure with which you can make an offer that is not subject to financing.
Legal guidance
During your search and after the purchase of your new home, you can make free use of the DAS legal helpline, which is useful for any legal questions surrounding the purchase, financing, transfer and renovation of your new home.
Are there any other questions on your mind? Your advisor is on standby.
Your advisor is always available for questions during your search. That's great news!
Offer accepted? Let's get started!
Tailored mortgage offer
During the consultation, we'll discuss which mortgage best matches your requirements, and look for a mortgage lender who can meet your needs. We'll compare interest rates and processing times, look for the perfect fit, and calculate exactly what your monthly payments would be.
Insurance included
Are you in need of term life insurance or income protection cover? That won't cost any extra money with Viisi.
Need an appraiser or bank guarantee?
Look no further, because Viisi can also set that up for you. We work together with a number of fast and knowledgeable partners, with competitive rates.
Your application with the mortgage lender
A 40% faster processing rate for your mortgage
Our team of lightning-fast mortgage underwriters will prepare your application down to the last detail, and apply for the mortgage offer of your choice. You will receive a suitable proposal as soon as possible. Do you have any further questions? Your advisor will be happy to discuss them with you.
Final quote
Have you agreed to the mortgage proposal, and did all your documents receive a positive assessment? If so, you will then receive a final mortgage offer. All you need to do afterwards is sign, and your mortgage is done and dusted!
Your home = financed!
Congratulations! ? You can head over to the notary and pick up the keys to your house. Let's all toast to that!
Living in Tilburg
Tilburg arose from a group of villages close to each other, which now form a large part of the current centre. Around 1600 quite a few sheep used to graze around Tilburg, which promptly grew into an important wool town. The nickname 'kruikezeiker' (pitcher pisser) originates from those days. Urine was used to wash wool and every Tilburg citizen supplied his urine in a pitcher for that purpose. King William II was very fond of Tilburg and had a country house erected there – the current town hall – (although in the end, he never lived there). "This is where I breathe freely and feel happy," King William II said about Tilburg. That says enough about the town. Everybody is welcome here. Tilburg is rough, experimental, social, has a sense of humour, is unruly and vigorous.
After the textile industry in our country collapsed, Tilburg emerged again as a leading city in the field of culture (for example, with museum De Pont and pop venue 013), education (Tilburg University and Fontys Universities of Applied Sciences including the Rock Academy) and industrial activity with names such as Tesla and Sony. The centre of Tilburg is in full development with the redeveloped Piushaven and the Spoorzone with its characteristic LocHal where various cultural activities now take place. The Moerenburg nature reserve on the east side of the city and the Oude Warande prove that Tilburg is not only a townscape. And so do its surroundings with the Drunense Duinen, the Oisterwijk woods and pools, estate De Utrecht & Regte Heide in the vicinity. In the town itself you will also find the beautiful parks by architect L.A. Springer, such as the historic Wilhelminapark and the pretty Leijpark. Furthermore there are the modern Tivolipark, the rural Oude Dijk city park and the attractive Muzentuin.
Due to its versatility and job opportunities, Tilburg is an increasingly popular city to live in. Would you like to learn about the developments in the housing market and with what changes in the mortgage market you will have to reckon? Our mortgage advisors are fully informed and will be happy to help you find and finance your dream home.
Your situation
Are you going to buy your first house, do you want to remortgage your property or are you going to buy a next house?
Including mandatory or desired term life insurance(s)
MyViisi: documents can be simply and securely uploaded online
Academically educated advisors
One fixed advisor for the entire mortgage process
Professional mortgage advice Tilburg
Are you looking around on the Tilburg housing market or do you already have a dream house in mind? Viisi's mortgage advisors will be happy to think along with you and to help you find a mortgage that suits your situation and wishes. By the way, did you know that:
The average price of a house in Nijmegen is € 309,000
You pay an average of € 2,397 per square meter
Every month some 233 houses change hands
A house is for sale for an average period of 37 days.
Armhoefse Akkers, Fatima, Zorgvliet and the Blaak may be interesting neighbourhoods for you.
Are you wondering what we can do for you?
Schedule a no-obligation telephone meeting to find out about a mortgage loan when it suits you. Are you looking beyond Tilburg? In that case we may also be able to help you with a mortgage advice. We have offices throughout the country and there is always a place nearby for you. At the bottom of this page you will find our contact information and an overview of our branches.