Linear mortgage: this is how it works
Our mortgage advisors are often asked what the best type of mortgage is. Nowadays, many clients choose from these two types of mortgage: a linear mortgage or an annuity mortgage. In this article, we discuss exactly what a linear mortgage entails. That way, you can make a well-considered choice!
Features of a linear mortgage
A linear mortgage offers the following features:
Your total monthly payments keep decreasing
The sum you are paying off remains the same
The interest keeps decreasing
You pay less interest over the whole term (compared to an annuity mortgage)
Your total monthly payments decrease slightly every month over the term of your linear mortgage. That sum consists of two different elements: the interest and the loan repayment.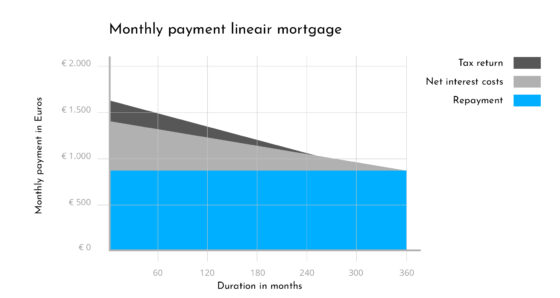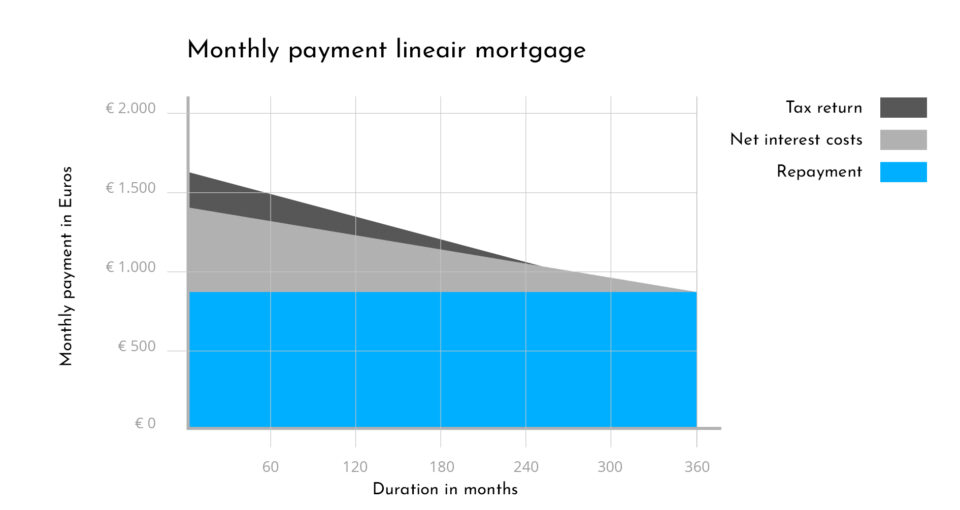 Monthly costs with a linear mortgage
You always pay off the same amount towards your loan during the term of your mortgage. However, the amount of interest changes: it keeps reducing over the term. That means your total mortgage costs decrease a little every month. You reduce your debt a little each month and the amount you pay in interest gets less and less.
Most people opt for a 30-year mortgage term. You will have paid off your mortgage in full by the end of the term.
Is a linear mortgage cheaper?
It is often suggested that a linear mortgage is cheaper than an annuity mortgage. However, it is difficult to judge whether this is always the case. It is true that you pay less interest on a linear mortgage, but on the other hand the amount of tax-deductible interest is also less.
Is a linear mortgage right for me?
A linear mortgage is initially more expensive than an annuity mortgage. That means many first-time buyers prefer to opt for an annuity mortgage. Do you expect your income to decrease over the course of time, e.g. because you are going to work less or retire? Then a linear mortgage could be the best choice. You can sometimes benefit from an additional discount on the interest because you are paying off your loan sooner.
Do you plan to move again in the near future because you want to go overseas or your family is growing? A linear mortgage could be a good choice in that case too. After all, the size of your loan keeps reducing because you are paying off more in the first years.
Finally, a linear mortgage is also handy if you have little financial discipline: it forces you to spend your money wisely!
Discuss it with a mortgage advisor
The type of mortgage that suits you best depends on numerous factors. Our mortgage advisors can assist you in identifying these factors quickly and making a suitable choice. Schedule a no-obligation telephone consultation and we will assist you further!