Guidelines for mortgage quotation
The mortgage quotation is an important document when applying for your mortgage. A mortgage quotation often includes many terms or jargon that many people are unfamiliar with. What are the important parts? What should you consider carefully when reading the mortgage quotation? With these guidelines we would like to discuss a number of key points and frequently asked questions.
Concept and final mortgage offer
Most lenders first prepare a concept mortgage offer after submitting a mortgage application. This is also called the interest rate offer. The lender will only draw up a final mortgage offer when all the reservations in the concept have been met. This final offer is binding on the lender.
Always check your mortgage quote for the following points.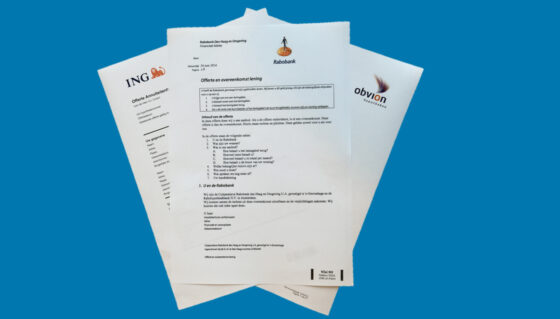 1. Mortgage interest rates
The mortgage interest rate which is offered in the mortgage quotation consists of a standard rate and sometimes discounts and surcharges. This rate is fixed during the fixed rate period indicated, unless there is a variable rate.
More about the mortgage interest rates
2. Quotation validity and renewal fees
After signing, every mortgage quotation has a certain validity period. The quotation must always be valid when signing the mortgage contract. Always keep this in mind when determining the date on which the mortgage contract will be signed. If this date is several months (3 or 4) in the future, it is advisable to pay close attention to the renewal conditions.
More about quotation validity and renewal fees
3. Mortgage rights and mortgage registration
When entering into a mortgage, you give the lender the right of mortgage on your home. This is a security for the lender. More specifically, this means that if you don't pay the interest rate or the repayment, the lender can sell the property. The sales amount can then be used to collect the claims against you as a debtor. The lender has this power up to the agreed principle sum in the mortgage contract.
More about mortgage rights and mortgage registration
4. The pledge deed
In case of death, there is an increased risk for the lender that the loan cannot be repaid. After all, the income of the deceased will be lost, meaning the surviving partner or relatives will not always be able to meet their obligations. A (forced) sale of the property will not always suffice. For this reason, some lenders require all amounts borrowed over 80 percent of the market value of the property to be covered by a life insurance. In the event of death, the payment of the life insurance will be pledged to the lender.
Need help?
Viisi is happy to help you check your mortgage offer. And of course we are also happy to explain what all these terms mean to you exactly. Schedule a no-obligation call below to discuss what we can do for you.